TEAM RESEARCH REPORTS AND OTHER PUBLICATIONS
Consortium for Global Japanese Studies, ed.
"Kokusai Nihon kenkyū" no shintenkai: Yōroppa to no taiwa kara
(New Developments in Global Japanese Studies: In Dialogue with Europe)
International Research Center for Japanese Studies, March 2023.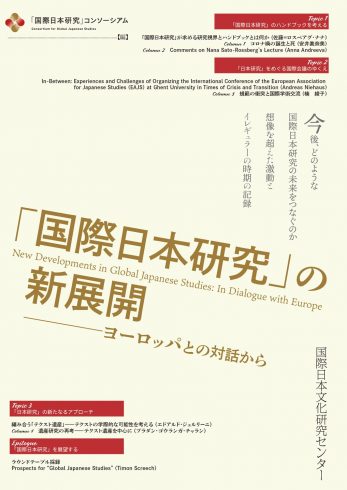 Amidst the fast-changing covid crisis, the dialogue between Nichibunken and European academics continued unabated. This is a record of those dialogues, along with some thoughts on the future prospects for a global Japanese studies. It is the sister volume to Global Japanese Studies after/with COVID-19: Reports from Europe (After/With korona no "Kokusai Nihon kenkyū": Yōroppa kara no hōkoku).